Starbreeze VR park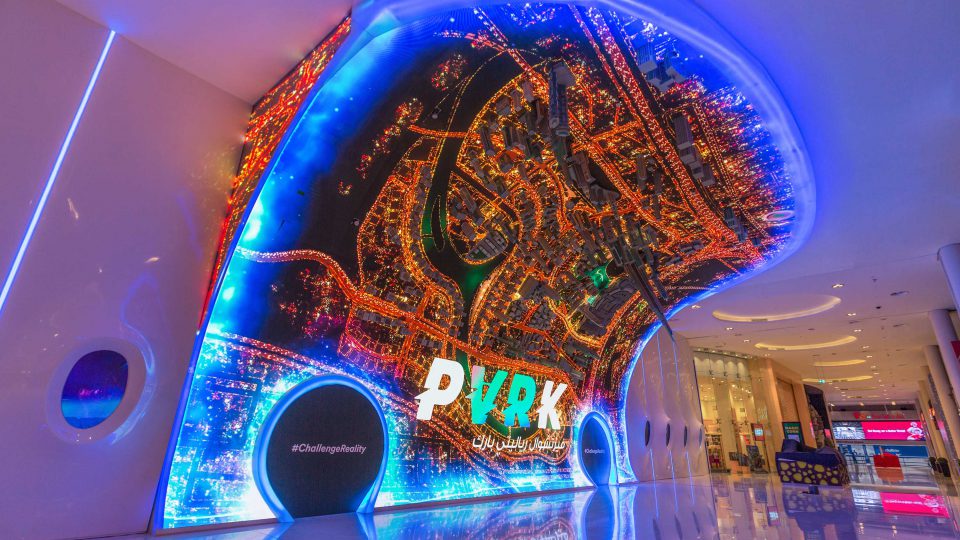 Change Reality – Emaar Entertainment opens doors to a game-changing virtual world
About Starbreeze VR initiatives
Starbreeze is a leading provider of high quality entertainment experiences that started in computer and videogames (creators of PAYDAY, PAYDAY 2 and the upcoming OVERKILL's The Walking Dead). With the landscape of entertainment transforming and with a strong belief that Virtual Reality (VR) will be a big part of the story of the entertainment industry going forward, the company is leading the charge of VR through location-based entertainment initiatives.
Through the joint venture with Acer, StarVR Corporation is bringing the StarVR 5K 210-degree Virtual Reality HMD to market. With wholly owned companies Nozon, providing the revolutionary VR movie technology PresenZ, the future of cinema and dark rides – using movie quality CGI in full parallaxed VR scenes, and Enterspace, aiming to bring a completely new type of large-scale, location-based VR entertainment to market – Starbreeze is well positioned to innovating how entertainment is consumed in the future.
Starbreeze announced that the Emaar Entertainment's VR Park, opening in the prominent Dubai Mall, will have eight of its experiences available at the opening March 1st 2018. The majority of the experiences will be available to play in the StarVR® HMD. As the main partner to the 75 000 sq ft Dubai Mall VR Park, Starbreeze is premiering four brand new VR-experiences especially made for location-based entertainment.
Home to 12.1 million sq ft of retail and entertainment opportunities, The Dubai Mall is the flagship of Emaar Malls and the world's most visited shopping and entertainment destination. Emaar Entertainment goes a step further this spring for the Dubai Mall premiering its VR Park. Designed to #ChallengeReality, the all-new, mind-blowing attraction is set to transform the virtual reality entertainment landscape, providing an unprecedented breadth of games, rides and experiences to suit all ages.
"We are thrilled to be part of launching the VR Park in Dubai and very happy to have found a partner in Emaar Entertainment that share the same vision and focus as we at Starbreeze do for location-based entertainment in VR" said Bo Andersson Klint, Starbreeze CEO. "We have had destination-based entertainment as a focus for our VR initiatives over the past years, and now visitors from all over the world can experience our vision for premium VR content not available at home. We see our participation in the VR Park as a show case for all of our experiences and a must-visit destination for VR enthusiasts and first timers with curious minds alike".
Damien Latham, Chief Executive Officer of Emaar Entertainment, said: "VR Park is the latest revolutionary experience to be delivered by Emaar Entertainment, as we continue to propel the leisure and entertainment (L&E) sector into the future and reinforce Dubai's position as a pioneering entertainment destination. Partnering with leading technology and content providers such as Starbreeze enhances our ability to deliver unprecedented entertainment experiences and push the boundaries of innovation for the industry, creating an ultimate destination for leisure and entertainment in the Middle East."
Combining Augmented Reality, Virtual Reality and experiential attractions, VR Park is designed to blur the lines between perception and reality through unforgettable, game-changing experiences, spanning wholly immersive rides and interactive games – including an unbelievable, indoor, rollercoaster.
Set across two levels of the mall and focusing on the concept of 'Shared Escapism', many of the attractions offer a multi-player experience – allowing visitors to interact with one another and live the experience with family and friends. VR Park has been specifically designed to offer something for everyone, with attractions appealing to all interests, across adrenalin, horror, leisure and more, as well as PVRK Café where guests can relax and indulge in out-of-this-world treats.
At launch, Starbreeze and Starbreeze Publishing presents the following experiences:
Construct
Featuring the exclusive PresenZ movie format, Construct gives a taste of how next generation CGI movies will allow allows visitors to step in to supreme, detailed scenes and explore them, look around corners and come up close to actors and characters.